Your GP will generally be your first line of contact if you are feeling unwell physically, and they also should be if you are feeling unwell mentally. The links below will provide contact information and advice that can kick start the process of seeking help or guidance for those with concerns about their own mental well-being.
This NHS search box will help you find the nearest practice, surgery or community Mental Health Team.
NEW: Spring of Partnership Matters is ready for you to explore!
Simply click on the image below to open up your copy.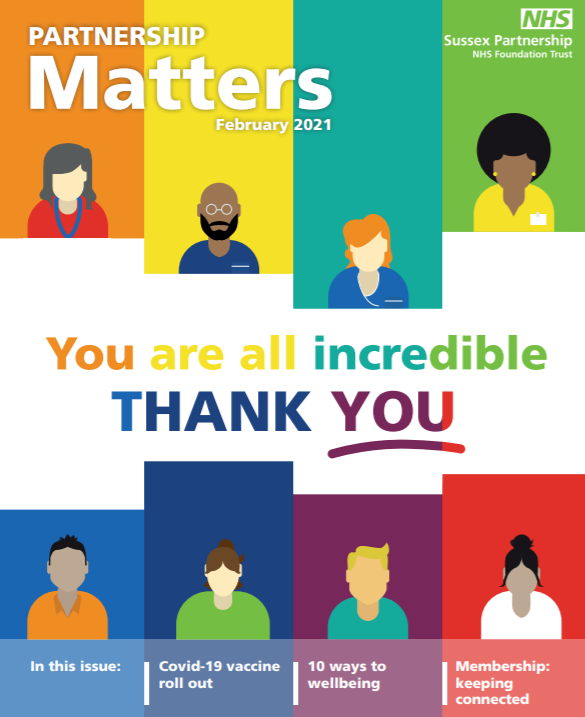 The Sussex Partnership Trust provide NHS care across Sussex for people with mental health problems and learning disabilities.

They can signpost you to crisis services in your area if necessary.

The website outlines the key locations that allow you to access the services. 
It also divides the services into a geographical location, with Brighton & Hove, East Sussex, West Sussex and further along the coast to Hampshire, all represented. 
For more information on the locality of services to your home or your workplace, please click here. 
The Trust have recently introduced a step by step guide for those people who may feel at risk or vulnerable. Through simple Yes/No answers, the site aims to guide users to the best suited course of action depending on the severity of the case at hand. If you feel that this process may be beneficial for yourself or someone you know, please click here to access their website.

Click HERE to read the latest copy of 'Partnership Matters' - which includes a message from Chief Executive Samantha Allen and Chair Peter Molyneux, a 'week in the life of an Occupational Therapist' and more
CAMHS NHS support children, young people, families and carers who are experiencing difficulties with their emotional, psychological and mental health.
 
They have teams of staff across Sussex and in the community who can support you and your family.
Formerly known as 'Time to Talk', this service provides Guided self help, Cognitive Behavioural Therapy and counselling. 
They offer a free and confidential service to people aged 18 and over who are registered with a local GP. Their counsellors and therapists are available at local centres and GP surgeries and telephone work is also provided.
The campaign is run by charities Mind and Rethink Mental Illness. They are funded by the Department of Health and Social Care, Comic Relief and the Big Lottery Fund.
If you are registered with a GP in West Sussex, you can call Time to Talk directly to book an assessment on 01903 703542. Or, if you prefer, talk to your GP who can refer you to them.
*If you wish to remain anonymous when submitting feedback or data to this site, then please leave the "Your Details" page blank within the following survey. Any details submitted will be treated with the strictest confidentiality.
Feedback on Mental Health Services